Anibal Ortiz, a 54-year-old court officer from the Bronx, was first put on a ventilator in March of 2020 after contracting COVID-19 at work. During this stage of the pandemic, 90% of ventilated patients did not survive.
Against all odds, Anibal came off of his ventilator five days after being intubated.  And following a 21-day fight in the hospital, he was released back home.
But Anibal's journey with COVID-19 did not end there.
His left arm was in awful shape. Between the excruciating pain and discoloring of his skin, Anibal was readmitted to the hospital two days later. His daughter, 28-year-old Alyssa Ortiz Bieal, was pulled aside by the doctors.  She was told she had two options: let her father die or amputate the affected arm. Hours later, doctors amputated Anibal's left arm to about one inch below the elbow.
When he woke up, Anibal was devastated.
"There were certain things I thought I'd never do again.  Certain places I thought I'd never see again," Anibal recalls.
Anibal spent the next several months rehabbing at Burke Rehabilitation in White Plains, New York.  About two months in, Anibal met Mike Sgroi, President of Clinical Services here at Allcare, to discuss the possibility of getting a prosthetic. Initially, Anibal wasn't interested.
"I didn't want a prosthetic at all," Anibal says, "Not at first. But I liked Mike.  He showed up for me.  He made the effort.  I liked the cut of his jib. So I listened to what he had to say."
Allcare's Clinical Services
After his first evaluation, Mike encouraged Anibal to talk to Kevin Herbert, Allcare's Clinical Services Liaison and one of our certified peer support visitors.  As a congenital below-elbow amputee, Kevin can talk to patients in a way that most others cannot – through his own experience.
Having spoken to hundreds of new amputees, Kevin is familiar with how this life-altering experience can affect a person's psyche.
"There is a grief process to losing a limb. It's like losing a loved one. It impacts your life – for the rest of your life," Kevin explains. "But that doesn't mean it's over or that it's not worth the trials to become more independent.  And having a prosthetic you like is absolutely a motivator."
"I liked Kevin. He had a good sense of humor," Anibal recalls.  "And I liked how he was able to stay in shape, that he found a way to work out.  It made me think maybe I could do that too."
After this conversation, Mike saw a new willingness in Anibal.
"I showed Anibal pictures, and he started asking questions about what the arm would look like," Mike says.  "So I cast him and put together a fully functional, working demo."
Mike let him take the demo home so Anibal could experience how a prosthetic would help in his everyday life.
But Anibal was still hesitant.
"I saw the benefits, but since it was a prototype, I wasn't sure if I'd like the look of the final piece," Anibal confesses.

Renewed Independence
But Mike reassured him.  He told Anibal they'd make him something custom.  Something that would work in his life and fit his personal style.
"It's not just fit and functionality that matter.  The prosthetic needs to match the patient's aesthetic, too," Mike says. "I want to build an arm that makes our patient happy, so they're encouraged to wear it.  So they can feel empowered and find a renewed independence."
After coming back with Anibal's custom prosthetic made out of black carbon fiber, Anibal's spirits lifted.
"It's fantastic looking," Anibal exclaims.  "Mike made me something I'm proud to wear.  Every person on the street wants to talk to me about it. It's kind of cool not looking like everyone else."

Myoelectric Prosthetic
Anibal's arm is a Myoelectric Prosthetic made in a custom fabricated carbon fiber socket with a flexible insert.  The arm runs off of the remaining muscles in his forearm.  The hand is controlled using an app on Anibal's phone, which allows him to change its position using up to twelve different grips – such as giving a handshake or gripping a shopping cart.
As an amputee who has tried three other prosthetic companies before finding Allcare, Kevin believes that Anibal's satisfaction with the arm has a lot to do with Allcare's business model.
"Allcare was the first company to ask me what I want, what I need, rather than just telling me what I'm eligible for," Kevin says.  "That's a game-changer for people.  They get so happy with the way the final product turns out that it motivates them to use it more."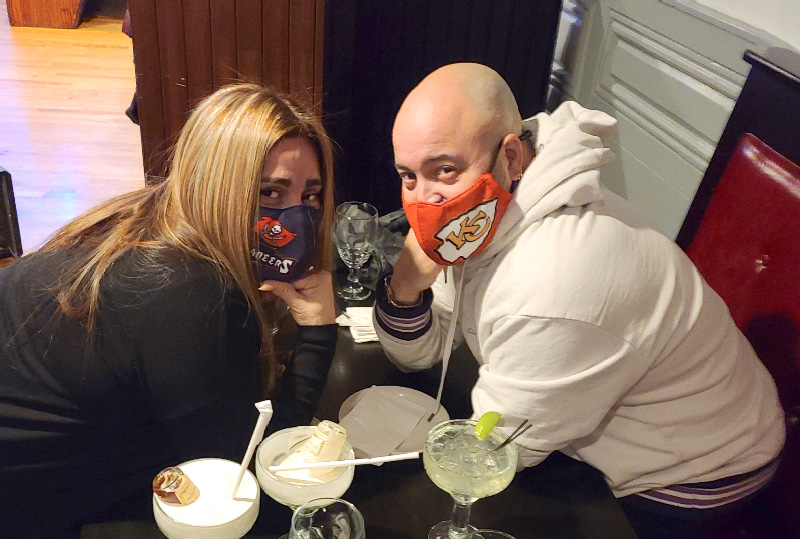 Family and Community
Anibal's journey to find normalcy in his life is far from over.  But he credits his family and his community with helping him get to this point – particularly his daughter, his son, his son-in-law, his girlfriend, and the Latino Court Officers Society.
And with a little nudge from Allcare, Anibal now has the tools he needs to start on the path of gaining more independence.
"Mike did right by me," Anibal says.  "He wasn't pushy, but explained that the arm would help me.  That I'd be better off with it.  And that's true.  I'd recommend Allcare to anybody."
On February 27, 2021, Anibal received his second COVID-19 vaccination.
"I'm not out of it yet, and every day is different, but here I am today; I'm in a good mood, feeling good," Anibal says.  "I want to plan a trip to Hawaii with my girlfriend.  I got to dance at my daughter's wedding."