Very knowledgeable about ortho/prosthetics and will not force any client to get anything from them. They give time to explain to the client and their families about the product and how to apply them. James is a super booster, inspires and motivates the patient, very positive and engaging. Stephanie is wonderful, she makes sure every concern is addressed. Paul and Eric are super kind, will give us the best option. Mike is amazing, very patient with all our questions. Rich is very understanding.. these group is just amazing.
Julie Sulit
Custom Orthotics: Built for Mobility & Comfort
We specialize in fabricating custom orthotics in a way that accommodates each patient's needs, lifestyle, personality, and goals. The process begins with an evaluation, followed by the development of a prescription rationale. We then take a plaster mold of your limb, which will serve as the foundation for the design and build of your orthosis. And because we mold, build, adjust, fit, and alter everything right in-house, we can get you a custom-built device made out of the strongest and lightest materials quickly and efficiently.
No matter the level of injury, we can create a unique orthotic solution just for you. See below for some of the more common conditions we help treat.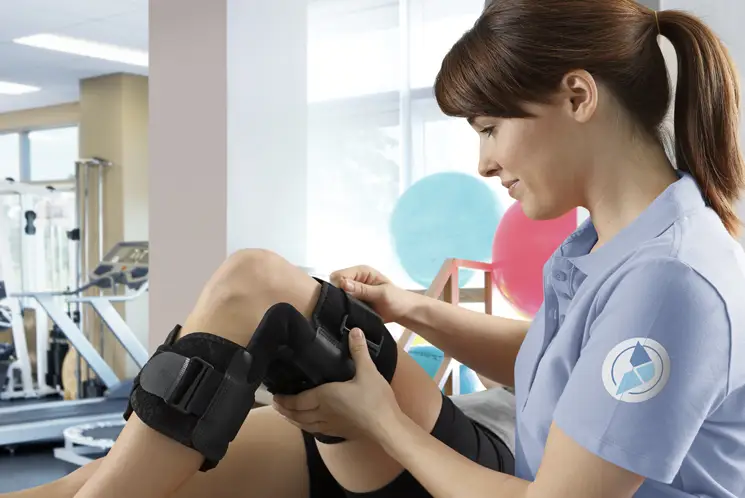 Ankle, Knee, and Hip Custom Bracing
Many patients with chronic or acute gait abnormalities, muscle weakness, or ligament laxity in any lower extremity joint can significantly improve their mobility with the use of a custom AFO, KAFO, or HKAFO. An AFO crosses the ankle joint, a KAFO crosses the ankle and knee, and an HAKFO crosses all three major joints of the lower extremity.
Post-Operative and Trauma Bracing
This type of bracing is generally intended to immobilize or restrict motion following a traumatic injury or surgical procedure to help protect the area and prevent further damage. Post-operative and trauma bracing can be done for nearly any part of the body. The type of brace used will depend on the specific condition of the patient.
Pediatric Custom Orthotics
Many pediatric conditions can be managed with the use of custom orthotics. Some devices are used to correct deformities before skeletal maturity, such as orthoses for clubfoot or cranial remolding. Others are used to facilitate ambulation in children with neuromuscular disorders.
Common conditions we treat include:
•  Clubfoot
•  Plagiocephaly
•  Craniosynostosis
•  Cerebral Palsy
•  Muscular Dystrophy
•  Down Syndrome
•  Multiple Sclerosis
•  Spina Bifida
• Hip Dysplasia
At Allcare, we understand that when working with children or babies and their parents, a practitioner's demeanor, responsiveness, and bedside manner are critical to your child's overall experience and results. We take great care to ensure our child patients and their families are comfortable as we work with them.
The goal of sports bracing is to protect anatomical structures from the high stresses placed on them during sporting activities. This can be either prophylactic to prevent injury or post-trauma to preserve the site and avoid further damage. Knee, ankle, and shoulder orthoses are the most common types of braces used for sports.
Functional Electrical Stimulation (Walk-Aide)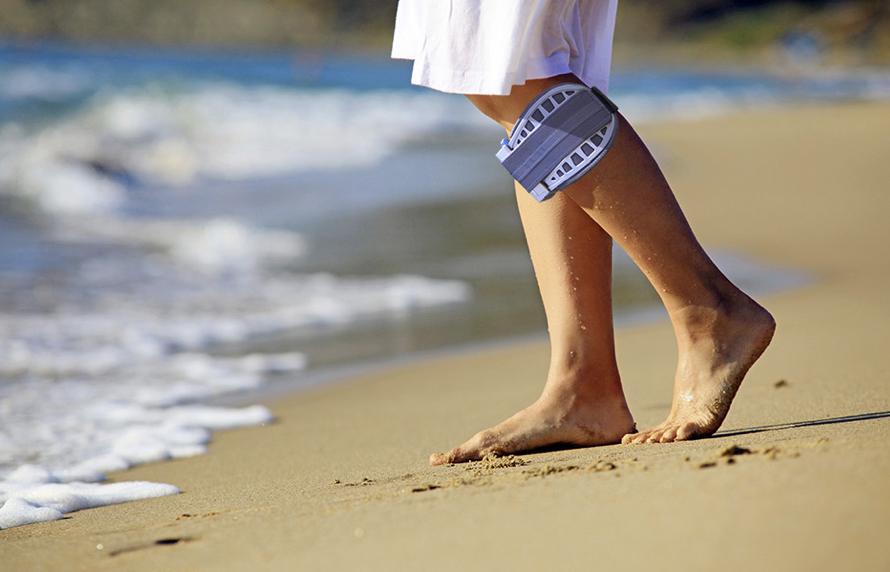 Functional electrical stimulation like Walk-Aide is an exciting emerging technology that is turning into a promising alternative to traditional orthoses. It is currently used to help lift the foot during the swing phase for those who suffer from drop foot caused by upper motor neuron injuries such as MS, stroke, incomplete spinal cord injury, cerebral palsy, or a traumatic brain injury. Not only does this technology help patients improve their walking speed and gait quality, but there have been numerous studies over the past fifteen years showing that it may even assist with rehabilitation by helping to retrain and strengthen muscles.
When a fracture needs to be immobilized to heal properly, a brace can often be used as an alternative to a hard cast. The advantage of using a brace is that it can be removed temporarily for cleaning, bathing, testing, or any other tasks. By using a specialized orthosis, fractures of the neck, spine, arm, and leg can be managed and stabilized.
Bracing has proven to be an effective alternative to surgical intervention for controlling the progression of spinal curvature in those with adolescent idiopathic scoliosis (AIS). Each device is custom fabricated based on the patient's size, type of curve, and degree of curvature. Both daytime and nighttime bracing are available.
We fabricate the following braces:  
•  Boston Overlap Brace
•  Provident Bending Brace
•  Rigo Cheneau Scoliosis Brace
We offer a variety of upper limb devices to treat conditions including carpal tunnel syndrome, weakness, paralysis, and contractures.
Foot orthotics are used to treat a variety of lower limb conditions.
Common conditions include:  
•  Pes Planus – Flat Feet 
•  Plantar Fasciitis
•  Metatarsalgia
•  Bunions
•  Hammer Toes
•  Claw Toes
•  Turf Toe
•  Morton's Neuroma
•  Pes Cavus – High Arches
Foot orthotics can also be used to offload wounds or areas of high pressure and pain.
Orthoses are often used in wound care to reduce pointed pressures, decrease shear forces, and prevent the recurrence of chronic wounds.
If you would like to learn more about our custom orthotics and how they might help improve your mobility, contact us anytime, and we'll be happy to walk you through your options.