Allcare Office Locations:
The staff is amazing! I have never met individuals who were more knowledgeable about prosthetic services. You can trust them to always be there for you with compassion and care.
Lindsay Constantino
Allcare Orthotic & Prosthetic Services
Rochelle Park, NJ Office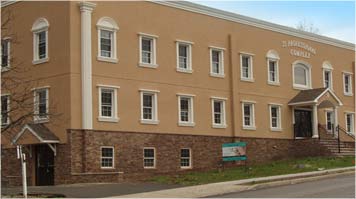 Rochelle Park Office
50 Essex Street, 2nd Floor
Rochelle Park, NJ 07662
Phone: 201-880-6908
Fax: 908-688-5785
The Allcare Orthotic & Prosthetic Services Rochelle Park, NJ office is conveniently located for any of our prosthetic and orthotic patients coming from Rockland County, Northern New Jersey, or any surrounding areas.
On-Site Laboratory for In-House Fabrication
The laboratory at our Allcare New Rochelle, NJ office is where most of our in-house fabrication at Allcare takes place. This on-site lab is how we are able to create custom orthotic and prosthetic devices of unmatched quality in such short timeframes – often delivered to our patients within two weeks of insurance approvals and casting.
Training Area for Individual Rehabilitation
Our New Rochelle office also includes a private gym area that is used for individual training and rehab sessions. Rehab and training are important steps of your prosthetic or orthotic process – particularly if this is your first device. We are pleased to have our own training area and staff to help you get you back to your prior level of function.
Educating both ourselves and our community is a huge part of the Allcare philosophy. At this location, we have a dedicated space that helps us to do both.
We are open from Monday through Friday, 8:30 am – 5 pm, but we have on-call weekend hours available to any of our prosthetic or orthotic patients. We also do home visits by request.
Highlights of our Rochelle Park, NJ Location:
On-Site Lab for In-House Fabrication
Serves Orthotic and Prosthetic Patients
Private Rehab & Training Space
CEU & Education Center
Conveniently Located for Northern NJ Patients
Conveniently Located for Rockland County Patients