I am so so happy I found Allcare. I have been struggling to find the right place to make my prosthetic. Allcare literally got it on the first try and it was such an amazing experience. I came with a prosthetic that was beat up and didn't fit. Mike made me an amazing leg with the most badass design. Anyone missing a leg or an arm needs to meet this team of beautiful people.
Stefania Emilia
Amputee Support Groups & Peer Visits
Our mission is to return you to your best life possible. And finding the right prosthetic is one tool that will help you get there. But as research shows, and many of us here know from our own experiences with limb loss, it is the support from other amputees that helps make the journey so much smoother. Through our peer visits and amputee support groups, our hope is to connect you to a community – our family – of amputees who intimately understand what you are going through because they have lived it themselves.
If nothing else, we want you to know that you are not in this alone. That there is a whole community out there waiting for you. To listen, share stories, answer questions, and offer guidance through shared experiences.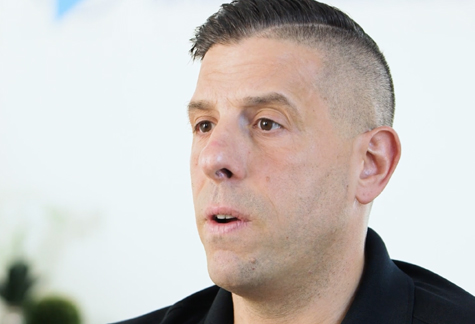 A lot of us have been there or have family members that have been there – that's how we got into Allcare. We remember what it's like being in that bed, not knowing what to do. Each patient we treat is like a family member, a part of our community.
James Spiegel
Allcare VP & Patient Advocate, Below-Knee Adaptive Athlete
Helping You Transition to Life After Limb Loss
Whether you are new to the amputee community, are about to have your operation, or have been living with a limb difference for a long time – talking through your questions and feelings with a peer visitor can often make all the difference on the road to achieving the kind of life you want to live.
Peer visitors are individuals with limb differences who have been nationally certified to provide information and emotional support to other amputees. As amputees themselves, peer visitors are uniquely qualified to help you cope with negative emotions – having experienced most or all of these feelings themselves. Seeing other amputees living full, active lives can also inspire you to live a life you may not have thought possible.
What Do Peer Visits Entail?
Pre & Post-Op Visits in Person, Via Zoom, or Over the Phone
Answer Questions, Like: Recovery Process, Prosthesis Use, Daily Living Concerns
Provide Emotional Support, Including an Understanding of the Grieving Process
Share Information and Resources
How Often Will We be in Contact?
At Allcare, your peer visitor will be there for you as much or as little as you'd like. They are always just a call or text away – whether you have a question, need to work through some emotions, or just want to talk.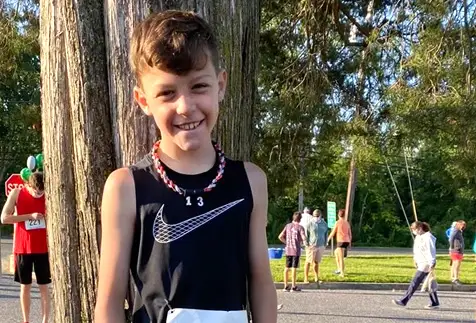 If I have a question my mom doesn't know the answer to, I'll just text Jimmy. He always knows what I'm talking about because he's an amputee, and he's gone through it too.
Logan
11-year-old Paralympic athlete, baseball pitcher, below-knee Allcare patient
Who Can Peer Visitors Provide Support to?
Amputees – Pre & Post-Operation, from Kids to Elders
Family Members
Friends or Other Loved Ones
Parents Who are Expecting a Child with a Limb Deficiency
The Benefits of Peer Support Include:
Better Quality of Life
More Successful Rehabilitation
Reduced Feelings of Depression, Fear, and Helplessness
Faster Return to Activities of Daily Living
A Sense of Family within the Amputee Community
Through Community, Discover a Place That Feels Like Home
Whatever you may be feeling – isolation, loneliness, depression, frustration – odds are these are emotions other amputees in the community are currently experiencing or have experienced at some point in time. Our amputee support groups aim to help you regain control of your life through collective education, compassion, and encouragement. And to bring the amputee community together, to help each other discover that you do not have to go through this alone.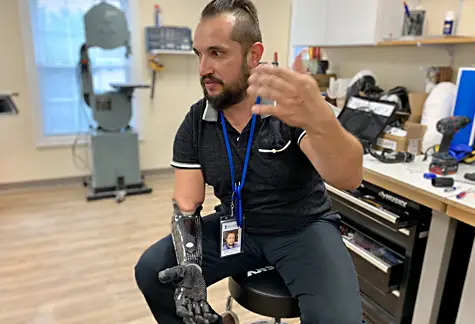 It took years for it to sink in…wow, I'm in this community. This is amazing, I really don't feel alone. It's like I'm home. I want to take that feeling and share it with others. The reason I do what I do is to help prevent it from taking so long for others to realize – you aren't alone.
Kevin
Allcare Liason & Peer Visitor, Personal Trainer, Congenital Below-Elbow Amputee
Topics for Each Meeting Will Include, but Are Not Limited to:
Dealing with Limb Loss
Help to Cope and Adapt to A New and Functional Lifestyle
Care of Your Prosthesis
Introduction to Various Amputee Groups & Resources
Training and Exercises
Returning to Work
Sign Up for Our Amputee Support Groups
Contact us to sign up for our monthly support group, typically taking place on the first Thursday of every month, and to learn more about other upcoming support groups we are offering.
If you are looking for additional support regarding your personal athletic goals – whether it be to walk a mile, run a 5K, start golfing again, fishing, or anything at all – see how Team Allcare can help.