I am so so happy I found Allcare. I have been struggling to find the right place to make my prosthetic. Allcare literally got it on the first try and it was such an amazing experience. I came with a prosthetic that was beat up and didn't fit. Mike made me an amazing leg with the most badass design. Anyone missing a leg or an arm needs to meet this team of beautiful people.
Stefania Emilia
Empowering You Through Adaptive Sports
At Allcare, we want to be with you, not just for the service we provide but throughout your entire life. And just as our peer visits and amputee support groups help connect you to others living with limb differences, Team Allcare does so with the specific mission to help you achieve your adaptive sports or recreational goals. No matter what you want to get into – hunting, fishing, riding a bike or a motorcycle, running a 5k or a marathon, and everything in between – we have the connections, resources, and commitment of our team to get you there.
Which Adaptive Sports & Activities Can We Assist With?
Anything you want to do, we can help you achieve. It doesn't matter if it's something you used to do or something new you want to try. We will do everything in our power to make it happen for you.  Some examples:
Skiing
Running
Hunting
Golfing
Weight Lifting
Yoga
Biking
Hiking
Swimming
Kayaking
Riding a Motorcycle
Whether you want to get back into working out or you want to try golfing for the first time – we know someone doing it who can guide and support you. Team Allcare is here to connect you to the right resources, ensure you get the right prosthesis for the activity you want to perform, and to encourage you every step of the way.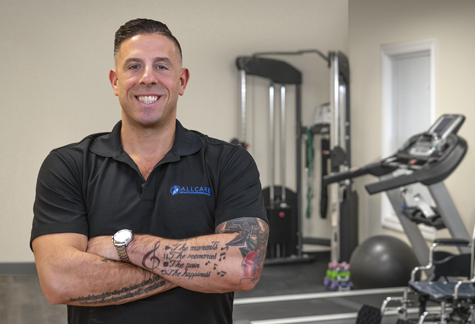 Whether or not you're a patient at Allcare, we want to be a resource for people. A hub of information on how to get into the adaptive world. I didn't see anything like this when I went through my amputation, so I'm really passionate about building this adaptive community
James Spiegel, Allcare VP & Patient Advocate
Below-Knee Adaptive Athlete
Team Allcare is all about building our amputee family through adaptive sports and recreational activities. We run, sponsor, and attend all types of adaptive events and classes throughout the year. The goal is to help build this supportive unit – through talking together, learning from one another, and enjoying each other's company.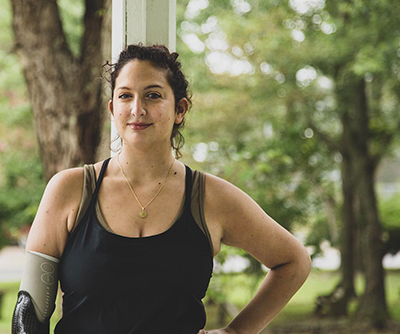 Allcare's programs are always run by employees with limb differences. I've not seen that anywhere else. As a patient, it's a game-changer.
Melanie Waldman
Yoga Instructor, Filmmaker, Actress, Upper Limb Allcare Patient
Adaptive Events & Classes We Hold:
Annual Ski Trip in the Poconos 

Ongoing Walking Clinics

Yoga Classes

Cross-Fit Classes
Some Adaptive Events We've Cheered On:
 5Ks
Youth Baseball Tournaments
Wheelchair Basketball
Aerial Dance Performances
Junior Paralympic Track Meets
Upcoming Adaptive Events:
Upper Extremity Event
Golf Clinic for First-Time Golfers
Surfing Clinic
Team Allcare On Instagram:
We created Team Allcare because we want to reinvest back into you. To help build your confidence, develop lasting friendships and memories, and to make sure you have everything you need to live the kind of life you want.
We would love to have you join the Team Allcare family. Contact us today to see how we can help support you, or check us out on Instagram: #TeamAllcare